We are back!
After a long 7 months, we could finally re-open our hotel End of may 2021

and we can hardly wait to welcome you at our hotel Das Rübezahl!

Family Thurm and the Ruebezahl-Staff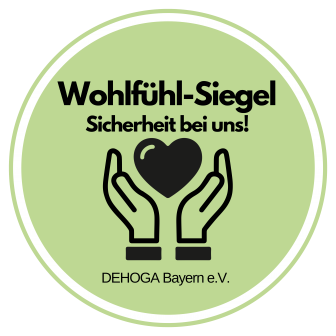 CHECK-IN
The prerequisite for your stay
 is a negative corona test carried out a maximum of 24 hours ago (PCR test or POC antigen test)  or a certificate that you are vaccinated (from 14 days after the second vaccination up to a maximum of one year).
COVID-19 tests for our hotel guests
For your carefree vacation we offer our guests covid quick tests on site. 
What is being tested?
All hotel guests can be tested for SARS-CoV-2 using rapid tests for active infection.
 
How will it be tested?
The swab collection in the nasal cavity is carried out by our trained staff.


How long does the test take or when will I find out the test result?
It takes about 1 minute to carry out the test, and you will receive the result after about 15 minutes.


Is a PCR test also possible?
The free drive-in test center in the region is available several times a week. We are happy to help you reserve your desired appointment.
The most important measures for your and our safety:
We offer COVID-19 tests for our hotel guests
We test all of our employees at least once a week to ensure safety. Many of our employees are already vaccinated!
Increased hygiene measures: surfaces are regularly disinfected, regularly ventilated, constant controls and training for employees as well as disinfectant dispensers at all important locations
Adjusted cancellation conditions for more flexibility, see FAQ.
We see legal safety requirements as a minimum requirement

The measures are continuously adapted to the official requirements of the government. (Short-term changes must be expected daily)
Face masks mandatory
The Rübezahl crew
All of our employees wear mouth and nose protection. The hotel reception as well as the BeautyAlm reception is equipped with Plexiglas panes.
You as a guest
Wear suitable mouth and nose protection in public areas. We also ask you to use gloves at the buffets, which you will find on site. You are welcome to take off the mask at your personal areas such as your table, your room or your lounger (the minimum distance is always ensured here).
Culinary: enjoy safely
A face mask must be worn on the way to the restaurant. The face mask can be removed at the table

In order to be able to guarantee a smooth process, an employee will accompany you directly to a free and disinfected table in order to avoid waiting times and crowds of guests.

Breakfast: We serve a rich breakfast at the table. A selection of specialties to enhance your breakfast experience is provided at the buffet.
Special Half-Board: The lunchtime, the cake Buffet in the afternoon and the evening treat will just change a little bit. We only avoid buffets
Our service and kitchen employees all work with face masks
Wellness & Spa: by far the most relaxing
The entire spa area is completely and unrestrictedly available to our guests.

You can stay in your personal resting places without a mask.
Massages and beauty treatments will take place as usual in compliance with the safety and hygiene measures.
All relevant surfaces are disinfected and cleaned several times a day.
The necessary distance is provided everywhere!
Our Suggestion: Book our private spa or one of our themed suites with whirlpool, infrared sauna and steam bath for even more relaxing spa moments.
Ventilation & air filter
Our ventilation system in the public areas has been expanded with anti-Covid air filters.

Your room will be ventilated for at least 30 minutes before arrival.
Our meeting room was equipped with an anti-Covid air purifier.
Enough space for yourself
Treating each other carefully means always keeping a distance of at least 1.5 meters. We made sure of that and changed a few things so that this will always be possible.
Frequently asked questions about the current situation:

Is there anything to consider when you arrive or during your stay?
The prerequisite for your stay (by check in) is a negative corona test carried out a maximum of 24 hours ago (PCR test or POC antigen test)  or a certificate of (double) vaccination (from 14 days after the second vaccination up to a maximum of one year) or a written confirmation of proven recovery (up to 6 months)

Guests must wear mouth and nose protection in all public areas, e.g. when entering the hotel, in the lobby, during massage treatments and on the way to the restaurant.
We guarantee check-in from 3 p.m. If the room is ready for occupancy earlier, we can notify you by phone in order to avoid unnecessary waiting times at the reception.
In order to speed up the check-in and avoid waiting times, we ask you to fill in all your details in the online check-in email before arrival.
Sufficient waiting areas are provided in the lobby to allow the necessary distances.
On the day of departure, we ask you to vacate the room by 11:00 a.m.
Cashless payment is possible.
Which outdoor activities are possible during the stay?
Our active guide has prepared a great weekly program for you and shows you the Allgäu from its most beautiful side. Take part in a guided hike, bike tour, visit to the hotel's own apiary or take a yoga class in the mountains.

Our rental bicycles and e-bikes are ready and can be rented daily. These are also disinfected after each use.
The hotel's own BMW i8 Roadster guarantees pure driving pleasure - perfect for a trip into the countryside with a picnic basket.
What is the hygiene and safety concept?
Together with hygiene experts we have implemented new safety and hygiene regulations for our guests and our employees.

To protect our guests and employees, we point out and inform about generally applicable rules of conduct in public areas.
Of course, our employees all wear face masks and regularly clean and disinfect their hands.
Disinfectant dispensers are available for our guests in all public areas.
Small disinfectant bottles can also be bought at the reception for private use.
What are the cancellation rules?
If you won't be able to start your vacation due to a Corona-related reasons, our cancellation conditions apply as follows:

You can postpone or cancel your booking up to 7 days in advance, free of charge. A medical certificate is required as a proof for this.