A connoisseur's holiday in the Allgäu
We have plenty in store for gourmets and foodies
Three restaurants, three styles and every dish is a true experience. Our range of culinary delights aims to inspire and surprise - and completely redefine Alpine cuisine. We serve newly interpreted Bavarian classics worthy of a star in our award-winning Gams & Gloria gourmet restaurant, open from Friday to Sunday. The Louis II à la carte restaurant serves dishes from all over the world every day - in various themed rooms with a view of Neuschwanstein Castle. And if you prefer more rustic flavours, visit our hotel's own mountain hut for cheese spaetzle, fondue or Sunday breakfast with a view of the summit! Our goal is never to stand still and keep expanding horizons - both our own and those of our guests. Bon appétit for your connoisseur's holiday.
We make culinary dreams come true
Your connoisseur's holiday in the Allgäu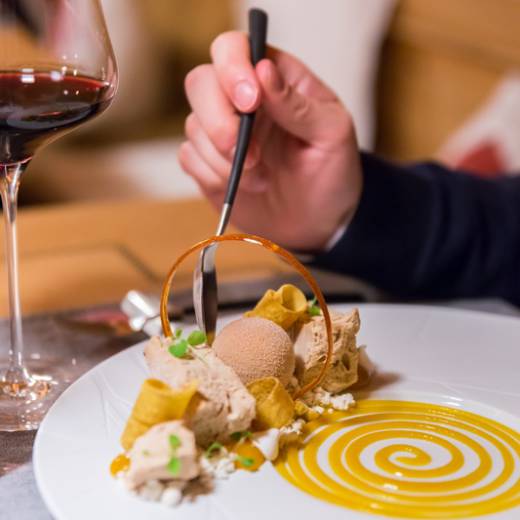 Indulgence with the all-important star
Our gourmet restaurant Gams und Gloria has been awarded a toque in the Gault&Millau! The reason: the unique duet of regional products and ingredients from distant lands, the exquisite wines and a modern take on a gourmet restaurant: without antiquated rules, but with relaxed service and plenty of joie de vivre!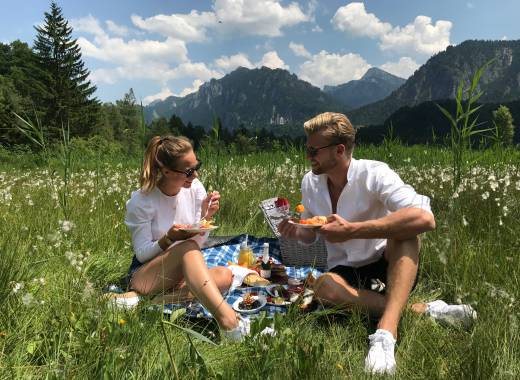 Treats in the picnic basket
A picnic on a lush spring meadow with a view of the Allgäu Alps? No problem with the optional picnic basket filled with delicious regional delicacies!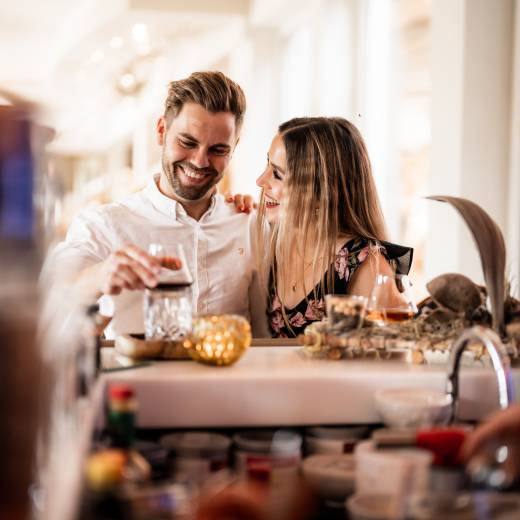 Rum & whisky from around the world
A bartender and guide all in one: our bar manager of the AlpenRausch bar & lounge Christian Wellisch treats our guests to a voyage of discovery around the world with his fine selection of spirits! Every day from 3:00 p.m.–midnight, he takes you on a journey into the fascinating world of wine, rum and whisky.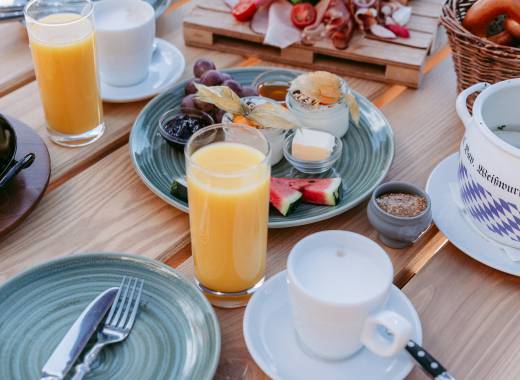 Breakfast in the valley or on the mountain
Whether on our sun terrace, in bed and – on Sundays – in the heart of nature in our hotel's own mountain hut: our breakfast menu is pure indulgence. From 7:30 – 10:30 a.m. we spoil you with freshly baked bread, fresh fruit, varieties of vitalising mueslis, homemade desserts and hearty cheese and sausage variations.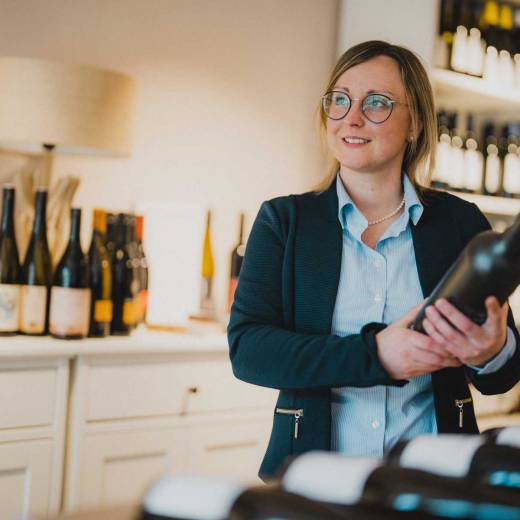 Exquisite wine list
Whether during a five-course menu, a wine tasting or enjoying a cosy evening by the fireplace in the hotel lobby – with over 250 wines, our hotel's own vinotheque has the right variety and vintage for everyone! Starting from well-known German and Austrian wines, our selection ranges from Italy, France and Spain to California and South America.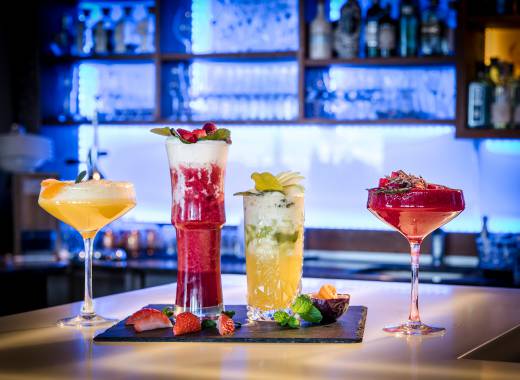 Cocktails to your heart's content
Every day from 3:00 p.m., bar manager Christian Wellisch and his team create fresh fruit variations in the AlpenRausch bar & lounge – just the way you like your drink. We'll prepare a tailor-made cocktail based on your ideas and wishes!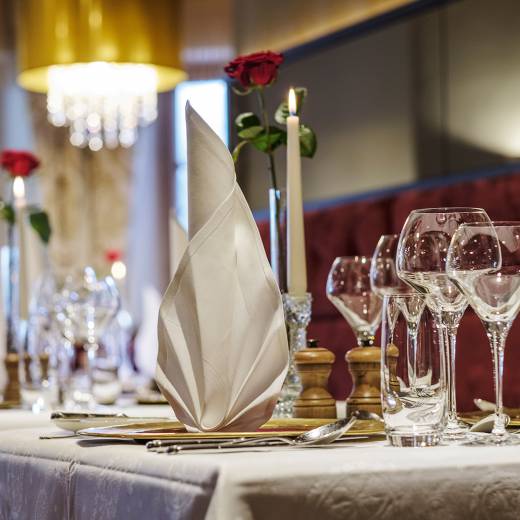 Daily indulgence at the Louis II.
Cosmopolitan creations from faraway lands meet regional influences: contemporary, exclusive and modern. Our gastro concept in the Louis II à la carte restaurant, led by chef Erik Wendt and service manager Caroline Zuber, invites our hotel guests to enjoy culinary highlights every day.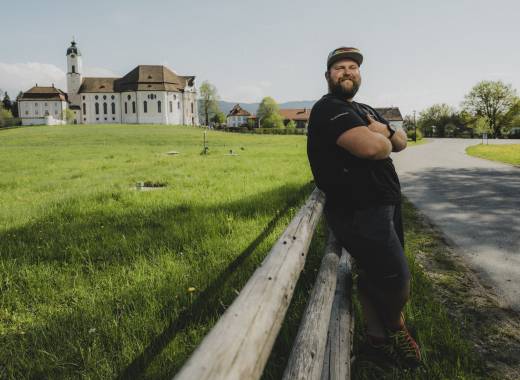 Cooking courses with Berg-Baschdi
How do you actually make original Bavarian Kässpatzn? Or a fluffy Kaiserschmarrn? Our Berg-Baschdi will teach you among the peaks in our hotel's own Rohrkopfhütte mountain hut – combined with a guided hike, of course.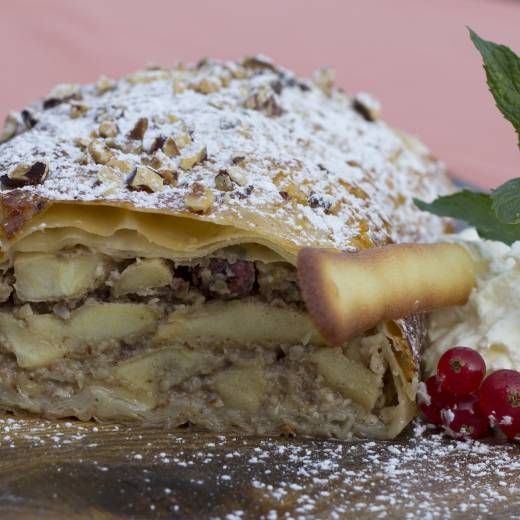 Cakes that are stuff of dreams at the afternoon buffet
Our hotel guests are served homemade apple strudel, pies and cakes just like grandma used to make at our afternoon buffet! Sweeten your afternoon on the sun terrace with a view of the unique mountain scenery from 2:30 – 4:30 p.m. every day!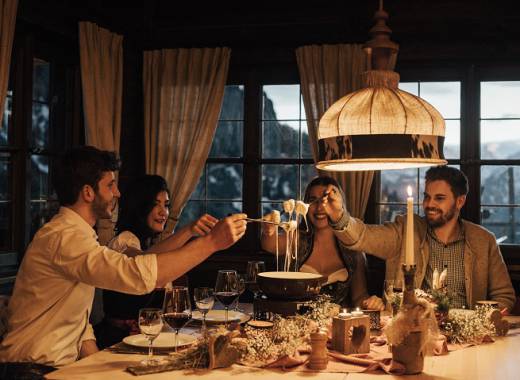 Rustic fondue evenings
A roaring fire, a glass of red wine and a delicious meat or cheese fondue! We offer this every Monday in the autumn and winter months in our hotel's own mountain hut – always with a range of side dishes and a good wine selection.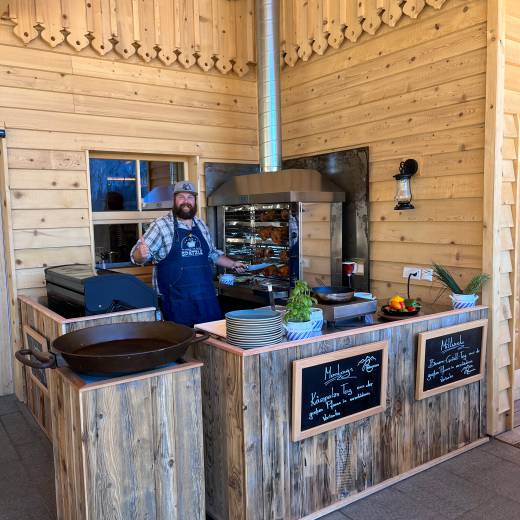 Summer BBQ evenings in the mountain hut
After a hot summer's day, why not round off the evening with a cool beer on the panorama terrace of our Rohrkopfhütte mountain hut? Our mountain hut team organises this for you every Thursday – and in summer with delicacies from the barbecue.
Packages & offers
Something for everyone!
BergGeist blog
The Rübezahl magazine